In the ever-changing landscape of climate change, another critical environmental challenge that significantly affects properties is flooding. Flooding is a dangerous issue that can have devastating effects on real estate; it can cause a variety of damages with serious repercussions for buildings. As global temperatures rise and weather patterns become increasingly unpredictable, the risk of flooding becomes a growing concern for both property owners and the broader community.
Climate change projections paint a stark picture of the future impact of flooding. According to the climate change scenarios outlined in the Climate Change Risk Assessment (CCRA), the number of properties in England with a significant chance of flooding could surge from the current 330,000 up to 1.2 million by the 2080s. The financial toll is equally staggering, with annual expected flooding costs predicted to rise from £1 billion up to £5.6 billion (present day prices) over the same period. These estimates assume no further action to prepare, no population growth and no change in the property stock. The existing trends in flooding will only be exacerbated by the increasing sea levels, increased rainfall, and increased storm occurrences, putting previously safe properties at risk. Flooding results in a variety of damages. Structural damage, including cracks and foundation issues, can compromise safety. Water intrusion damages interiors and fosters mould growth. Electrical and mechanical systems can be compromised, and contaminants may infiltrate the property. Personal belongings often suffer irreparable damage. Landscaping and outdoor structures can also be eroded.
For thorough conveyancing reports, climate change flood forecasting is necessary. It is crucial to remember that data on climate change is only a projection and cannot offer certainty. However, buyers, sellers, and lenders can all make informed decisions by considering various possibilities and utilising predictive approaches. Climate projections used in flood mapping provide vital information for property assessment, risk mitigation, and the implementation of appropriate engineering interventions.
At Martello, we recognise the significance of incorporating comprehensive flood assessments into our climate change section of our reports. We have therefore utilised a dataset from GeoSmart created using innovative data models and predictive techniques to provide accurate flood risk evaluations for individual properties. For each property, risk values have been assigned across different emission scenarios; RCP 2.6 (Low), RCP 3.5(medium) and RCP8.5 (high) and three future epochs centred on 2030, 2050 and 2080.
This cutting-edge dataset provides future flooding risk due to climate change. Several valuable benefits result from include GeoSmart climate change flooding estimates in conveyancing reports.
Firstly, the dataset utilises innovative data models and predictive techniques to provide accurate flood risk evaluations for individual properties. This means that conveyancers can offer their clients a more precise assessment of the potential flooding risks associated with a property. This accuracy enhances the credibility and reliability of your reports.
Secondly, GeoSmart's dataset includes risk values for different emission scenarios and future epochs, centred on 2030, 2050, and 2080. By incorporating this data into conveyancing reports, you can assist clients in understanding the long-term impact of climate change on the property.
Finally, in today's real estate market, buyers and sellers are becoming increasingly aware of climate change and its potential effects on property value and safety. Conveyancers who include GeoSmart's climate change flooding estimates in their reports demonstrate a commitment to providing comprehensive and up-to-date information.
As with shrink swell, we at Martello understand the need for simple, quick, and straightforward data interpretation. Therefore, we have implemented the following traffic light technique to convey this data in a way that will help customers quickly grasp the risk associated with any given property.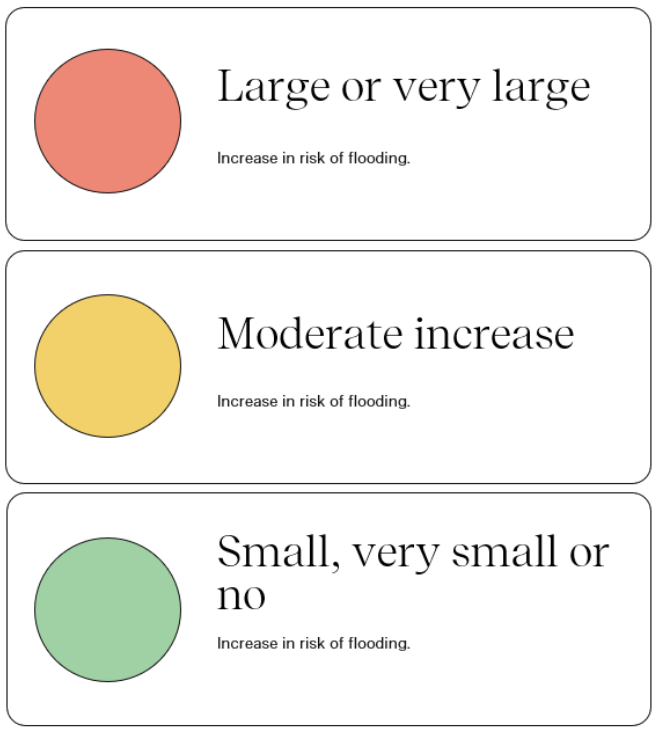 This information can be found in the flooding section of the climate change report. Martello have not manipulated the data in any way, and all data is as provided by GeoSmart.
Click for a sample report or contact us. Prepare for climate change impacts in your property transactions with Martello's comprehensive conveyancing reports.